I love to eat pineapples and I would usually buy the cut fruit from fruit vendors (I don't buy whole pineapples coz it's too much for one person to consume + I hate to skin the pineapple...too much work!). Sometimes, if you're lucky, you end up with a sweet one but for the most times, it's not! At times, it's so tart, it numbs my tongue :'( and basically ruins my taste buds for the rest of the day.
But that was before I discovered the mini pineapple! :D
The first time I saw this fruit was on Mun's blog and barely 2 weeks later, while I was having breakfast at my neigbourhood coffee shop, this young lady passed by our table selling the exact same mini pineapples.
I was overjoyed coz I wanted to try them. I asked her how much and she said RM10 for 3. If I had not seen it (or know how much it costs) on

muntalksfood

, I probably wouldn't have bought it since it isn't that cheap...more than RM3 for something so small.....it's even smaller than a Granny Smith apple (after it has been cut)!
On googling, I found out that this is indeed the Mini Thai Pineapple. Appearance wise, the baby pineapple looks exactly the same as the larger pineapple. Taste wise, the flesh is a lot sweeter and juicier than the usual larger varieties...and has a more intense pineapple flavour.
The inner core of the mini pineapple is completely edible. You can devour it (like I did)...it's tender, sweet and crunchy unlike the larger member of the pineapple family where it's tough and fibrous....and inedible!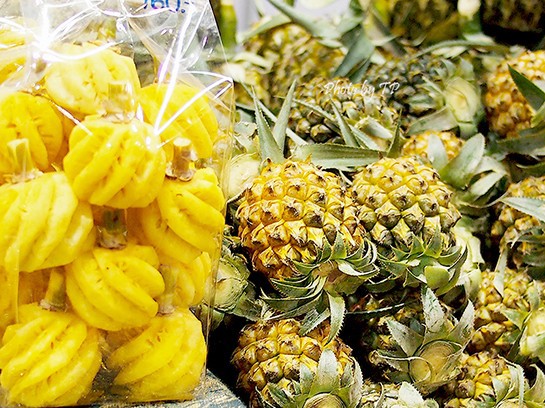 Here's a picture I found online of the cut and uncut ones. If you love eating pineapples, you have got to try this one...and you'll forever be converted....and you won't go back to your regular pineapples anymore! ;p
As great as they are eaten fresh, I can just imagine how equally great they'll be in a salsa, salad or simply grilled! Or even as pineapple jam or in pineapple tarts (they're so sweet already, you probably wouldn't need to add any sugar).
I have since gone searching for this mini pineapple at the morning market as well as the fruit shops in my neighbourhood...I've not found them yet! :( I've yet to try the "pasar malam" (night market) and supermarkets. Even if I do find them, they'll probably be the uncut version, so I won't be jumping for joy anytime soon. Hopefully, our paths will cross soon and I'm destined to meet the young lady selling these again!
Till then, I'll be thinking of you.....yellow sweet juicy tiny cute adorable tasty pineapple!
Update (15.05.2015): I've since found these mini pineapples selling at my neigbourhood pasar malam....yay!
They are selling them at RM10 for 3 (mini ones) or RM10 for 5 (really mini ones)...hope you find one at a pasar malam near you! ;D